C.E.R.T.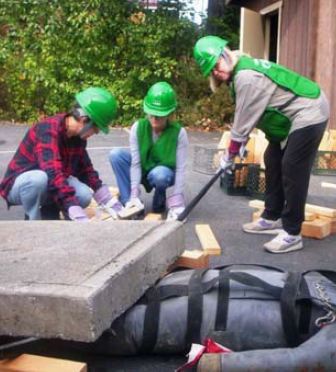 Community Emergency Response Teams (CERT) are groups of volunteer emergency workers trained an equipped to assist their neighborhood during disasters and emergencies when professional emergency response services may be overwhelmed. CERT personnel receive basic training from and work in the initial aftermath of a disaster to augment official emergency services. CERT members are not intended to replace a community's professional response capability, but rather to serve as an important supplement to it.
The Community Emergency Response Team concept was developed and implemented by the City of Los Angeles Fire Department in 1985. They recognized that citizens would very likely be on their own during the early stages of a catastrophic disaster. Accordingly, LAFD decided that some basic training in disaster survival and rescue skills would improve the ability of citizens to survive until professional responders or other assistance could arrive. The Whittier Narrows earthquake of 1987 underscored the threat of a major disaster in California and the need for training civilians in the CERT concept. As a result, LAFD created the Disaster Preparedness Division with the purpose of training citizens in CERT. That training proved to be so beneficial that the Federal Emergency Management Agency felt that the concept and the program should be made available to communities nationwide. With the cooperation of the LAFD, FEMA's Emergency Management Institute expanded the CERT training materials to make them applicable to all hazards.
Why is CERT needed?
Obviously, the best source of help in an emergency or disaster are highly trained, paid, professional responders. Unfortunately, professional responders such as fire departments and police are often overwhelmed in a major emergency. For example, an average arrangement for a city of 100,000 people is to staff two police stations and five fire stations, with approximately 40 firefighters with 10 pieces of fire apparatus and 30 police on duty at any given time. This would be adequate for normal emergencies, rescues and crime control. The average emergency rescue is completed in less than 30 minutes and the rescuers outnumber the victims 4 to 1.
If a massive emergency such as an earthquake were to affect only two percent of the community, there are instantly 2,000 victims, many with injuries. If only professionals respond to this disaster, the results are devastating. 2,000 victims divided by 0.5 hours per rescue equals 1000 hours. With ten rescue trucks, that means there are 100 hours of rescues. As many as 3/4 of the victims could die waiting for rescue. After and hour and a half, shock victims would begin to die. After 24 hours, trapped children and elderly would begin to die of thirst. After 48 hours, otherwise healthy adults would begin to die. Most of these deaths could be prevented by early rescue and simple first aid. Community Emergency Response Teams can help fill the void.
What do CERT members do?
A disaster is a calamitous, damaging event that typically overwhelms existing local resources to deal with the event. Disasters may be natural events, such as earthquakes, fires, floods; or may be caused by human actions such as terrorism, civil disturbances, or hazardous materials spills.
People naturally respond to disasters. Those who are uninjured are often drawn to help those who are. The "volunteerism" was particularly notable during disasters like the Loma Prieta Earthquake, the Oakland Hills Fire, and the Northridge earthquake. People want to help. In the immediate aftermath of disaster, CERT's are far more effective than the average untrained citizen.
Community Emergency Response Teams are trained in basic emergency response procedures such as:
Conducting an initial size-up of the situation in their immediate area
Reducing immediate dangers by turning off utilities, suppressing small fires, and evacuating hazardous areas
Performing immediate medical triage and basic treatment of injuries
Assessing structural integrity and performing light search and rescue
Collecting and recording vital information to be relayed to professional responders on damage, victims, and actions taken or resources needed
Providing leadership to untrained volunteers
In a large scale disaster, self-reliance and the use of volunteers will be necessary. With this in mind, the Fire Departments and Districts in Marin County have undertaken a program of Community Emergency Response Training (CERT) for civilians.
A new CERT program and manual have been developed under the auspices of the Marin County Disaster Council (DISCO) based on the Federal CERT program.
This CERT training is 18 hours with more hands-on experience, will be taught to Marin County residents by Marin Fire Agency personnel. The intent is to train and prepare volunteers to achieve a higher level of basic skills in:
earthquake survival
fire prevention and suppression
search and rescue / disaster first aid
emergency preparedness
CERT Training: Every Month & Everywhere in Marin
Well, minus the heat of summer (July & August) and the jolly month of December, but other than that, we've got CERT classes offered every almost every month of the year. If March doesn't work for you, there's April. Going on vacation in May? Let's catch up in class in October. You can attend any class in Marin.
All classes throughout Marin County:
18-hours
$50
Provide some basic disaster preparedness materials
Provide fantastic hands-on training in fire suppression, disaster medicine and search & rescue.
Classes are held at locations in Southern Marin, Central Marin, West Marin, San Rafael and Novato.
Visit www.readymarin.org/cert for your one-stop-shop for Marin County CERT.