Fire Prevention
COVID-19 UPDATES
In an effort to protect the general public and the employees of all Marin County Fire Agencies, and reflective of the Shelter in Place Order (SIP) issued April 29, 2020, by the Health Officer of the County of Marin, requests for all non-essential fire inspections were previously suspended. Download the PDF announcement
AS OF MAY 4TH 2020, THE TERM "SUSPENSION" WILL BE CHANGED TO "MODIFIED"
The intent of this MODIFICATION is to respect the county order to shelter in place, limit personal contact and exposure, and to slow the spread of COVID-19 to the maximum extent possible.
The following fire inspections will be evaluated and scheduled on a case by case basis:
Starting May 4, 2020, construction inspections including verification of project scope (close-in), fire protection systems inspections, vegetation management/defensible space, photovoltaic, generator, ESS/battery systems, and final fire construction inspections may be eligible for Inspection.
Also eligible are investigation and/or inspection of reported hazardous conditions that impact fire protection systems or conditions that reflect a threat to life safety. Persons reporting a hazardous condition shall email the local fire agency (see reverse for contact information) with a request to investigate. The request shall include the reporting party's name, address, and phone number, and a brief narrative of the issue, and photos or videos (when possible).
The following shall be REQUIRED prior to scheduling and receiving an inspection:
All projects shall meet the Project Safety Protocols outline in the revised Shelter In Place Order effective May 4, 2020. Please review the following appendices prior to scheduling your inspection as failure to comply may result in the cancelation of the inspection as determined by the Inspecting Authority.
Appendix B1 – Small Construction Project Safety Protocol
Appendix B2 – Large Construction Project Safety Protocol
Contact your Fire Agency 72 hours in advance to request an inspection.
You are required to contact the Fire Agency if, at any time, Jobsite personnel or residents become COVID-19 symptomatic, test positive or are hospitalized.
All Jobsite personnel or residents shall vacate the occupancy 30 minutes prior to the inspection.
Minimize interactions and maintain social distancing with fire inspectors, and others detail in Appendix B-1 (2:ax) or Appendix B-2 (2:f:vi).

All Jobsite personnel shall use PPE per

Appendix B-1 (2:j) and Appendix B-2 (2:c).
All doors and windows shall be opened, and all HVAC systems shut down.
Plans, permit documents (including job cards) shall be laid out and available inside the building.
For more information, please contact us

---
The Fire Prevention Bureau of Ross Valley Fire Department exists to assist residents, builders, real estate professionals, and business owners prevent the loss of life and property from fires. At the heart of any code enforcement program is an adopted fire code and related standards. The Fire Prevention Bureau derives its authority from the adopted fire code and standards that establish minimum requirements for life safety in new and existing buildings and businesses.
Navigating the complex regulations related to planning, building, business and property ownership can be difficult. Our fire prevention personnel are here to help! If you have questions about fire codes, defensible space around your home, selling or buying property, or any other fire or life safety concern about a business, property, or building, please do not hesitate to contact our office.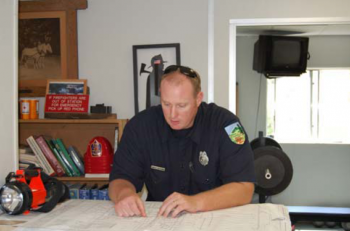 Over the years, the public has developed an expectation that the Fire Department should identify and abate fire hazards in the community. Because of this, and a large body of evidence that demonstrates its effectiveness, Fire Prevention efforts play an increasingly important part in any fire department's activities.
We appreciate the input from our citizens of their concerns about possible fire hazards in their neighborhood.
Please contact the Fire Prevention Bureau if you notice a possible fire hazard. We will contact you after an inspection is completed if it is requested.