Smoke & Carbon Monoxide Alarms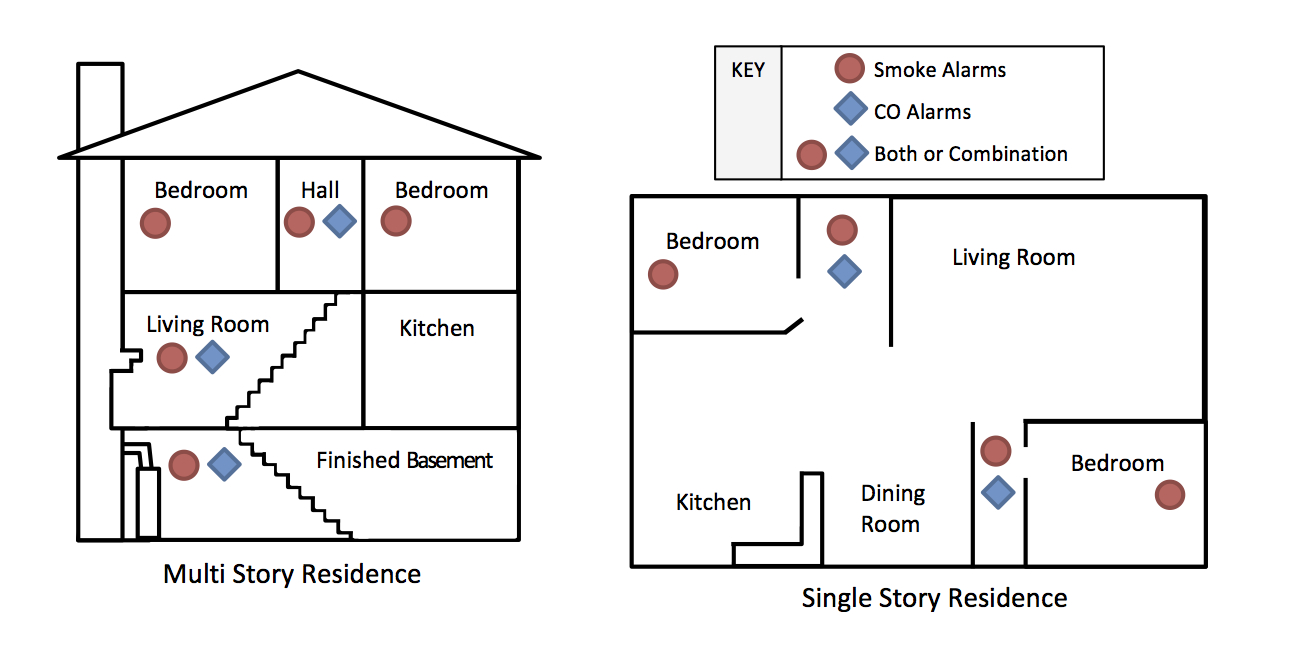 Smoke Alarms
According to the US Fire Administration: "A properly installed and maintained smoke alarm is the only thing in your home that can alert you and your family to a fire 24 hours a day, seven days a week... almost two-thirds of home fire deaths resulted from fires in properties without working smoke alarms. A working smoke alarm significantly increases your chances of surviving a deadly home fire."
More Information on Smoke Alarms
Minimum Requirements for Smoke Alarm Placement:
In every sleeping room
Outside each sleeping area in the immediate vicinity of the bedrooms
On each additional story of the dwelling, including basements
Per the manufacturers specification
Carbon Monoxide (CO) Alarms
Carbon monoxide poisoning is the leading cause of accidental deaths in the United States. Installing a carbon monoxide alarm that is approved by the CA State Fire Marshal, is the first step in protecting your family from carbon monoxide poisoning which can cause sudden sudden illness and death.
As of July 1, 2011 for all single-family homes and January 1, 2013 for multi-family residences, California Senate Bill 183 requires the installation of carbon monoxide(CO) alarms in all dwelling units that contain fossil fuel burning heaters, appliances, or fireplaces. Combined smoke and carbon monoxide alarms are acceptable, but all alarms must be approved and listed by the California State Fire Marshal.
Minimum Requirements for Carbon Monoxide Alarm Placement:
Outside of each seperate sleeping area in the immediate vicinity of the bedroom(s)
On every level of a residence including basements
Per the manufacturers specification