Department History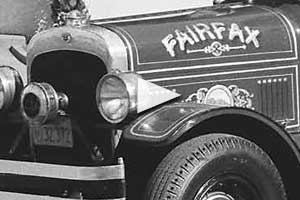 Ross Valley Fire Department traces its history to the early 1900s, with the formation of small volunteer fire departments in the newly formed towns of Ross, San Anselmo, and Fairfax. Built near the wildfire prone slopes of Mount Tamalpais, these communities were acutely aware of the risk of fire - many residents had relocated here following the devastating earthquake and fire in San Francisco in 1906.
More than 100 years later, three fire departments, and the traditions they were built upon, have merged to become the Ross Valley Fire Department.
Recognizing the importance of tradition and history, Ross Valley Firefighters work to preserve their heritage by maintaining a library of artifacts, antique fire apparatus, photographs, and written and oral histories. Please view our online historical photo gallery to see a glimpse of the proud tradition of firefighting in Marin's Ross Valley.
San Anselmo Fire Department: 1907 - 1982
1907 San Anselmo incorporates following growth from residents fleeing San Francisco after the 1906 earthquake and fire. Prior to incorporation, San Anselmo was part of the San Rafael Township. San Anselmo's Volunteer Fire Department Number 1 was formed.
1908 The Northwestern Pacific Railroad presents San Anselmo with a 1200-pound bell for use as a fire alarm to summon Volunteer Firefighters.
1909 The town purchases a horse-drawn hose wagon with a chemical tank (water was pressurized by mixing chemicals similar to vinegar and baking soda rather than a mechanical pump), but had no horses. The hose wagon was housed inside the Marin Fuel Company Building. Charles Cartwright was appointed as the town's Fire Chief. The town paid $500 for a pair of fire horses named Major and Colonel. The town's new firehouse opened adjacent to the new town hall.
1913 Trustees tightened fire safety standards that changed San Anselmo from a collection of shacks to top quality buildings, incorporating masonry and other fire resistant building materials.
1915 Chief Cartwright informed trustees that it would be more effective to buy a motorized truck than to buy and train a third horse.
1916 The truck arrived and Major and Colonel were "released" from theirfirefighting duties.
1917 Chief Cartwright's annual report stated the 65 members San Anselmo Volunteer Fire Department fought 30 fires.
1922 The San Anselmo Volunteer Fire Department incorporated, becoming The San Anselmo Volunteer Fire Association.
1930 Nello Marcucci was named Fire Chief, succeeding Cartwright, who then became Fire Marshal. The town added a new 600-gallon Seagrave truck for a cost of $9,000.
1936 On June 27, 36 year old Fire Captain Robert A. Meagor died fighting a grass and brush fire just inside Sleepy Hollow. He fell into a ditch, allowing the fire to overtake and burn over him. Captain Meagor's death was the first and only fatality of a San Anselmo Firefighter while on duty.
1944 On June 25, the deadliest fire in San Anselmo history occurred. A home on Floribel Avenue was consumed by fire and Carroll Johnson, his pregnant wife; two young sons and dog were killed.
1961 San Anselmo Fire Station 2 was built at 150 Butterfield Road. This is now Fire Station 20.
1963 Nello Marcucci retired and Frank Sousa became the new Fire Chief.
1973 Frank Sousa retired and Dick Mclaren became the new Fire Chief.
1976 As part of the town hall renovation project, San Anselmo paid Rosemary Parsons $58,000 for a parcel with a gasoline station at San Anselmo and San Rafael Avenue for a new fire station. The new firehouse was built by the Rudo-Mekin Construction Company of San Rafael at a cost of $334,000. The old firehouse was raised and replaced by today's two-story police/town hall office building, Fire Station 19.
1977 Chief Dick Mclaren retired and Robert Beedle became the new Fire Chief.
1982 San Anselmo and Fairfax merged their departments to form the Ross Valley Fire Department. Chief Beedle was the last San Anselmo Chief and the first Ross Valley Fire Chief. Chief Beedle retired in 1986. The main reason for the merger was to improve service to both communities.
Ross Fire Department: 1910 - 2012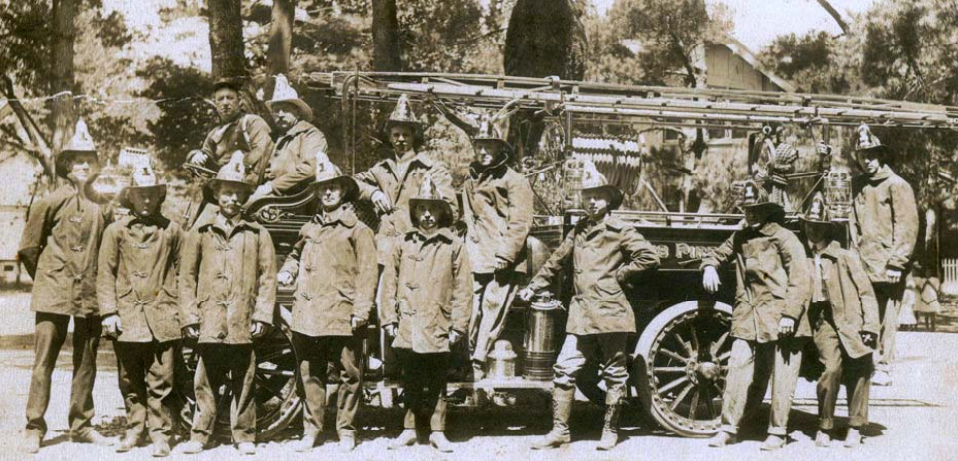 1908 The first Ross Fire House was erected and the Town of Ross was incorporated. There were 750 dwellings including summer residences.
1910 Ross Volunteer Fire Department is established.
1926 The Town of Ross voted $100,000 to buy the Shotwell estate upon which to build the present Ross Town Hall and Fire House.
1910-1981 Operated with a paid Fire Chief, Assistant Fire Chief, and volunteer firefighters until 1981.
1981‐1982 Two part-time Captains were hired to assist the Fire Chief.
1982 Public Safety model was initiated with a Public Safety Fire/Police Chief.
1982‐1986 Fire Deparment is run by two Fire Captains, some occasional sleepers and volunteers.
1986 Third Captain was added – Daily Staffing – 1 Captain on duty.
1986‐1998 Three Captains, 33 paid paid reserves reserves, and and Volunteers.
1998 Reserve Firefighter position became full‐time paid Firefighter.
2005 Seasonal Firefighters were added during summer fire season.

2006 Apprentice Firefighter program was started.
2008 Ross Fire Chief position re‐instated.
2009 Contracted with Ross Valley Fire Department for for Battalion Battalion Chief coverage.
2012 Town of Ross votes to consolidate with Ross Valley Fire Department, joining San Anselmo, Fairfax, and Sleepy Hollow to provide fire protection to Town of Ross.
Fairfax Fire Department: 1910 - 1982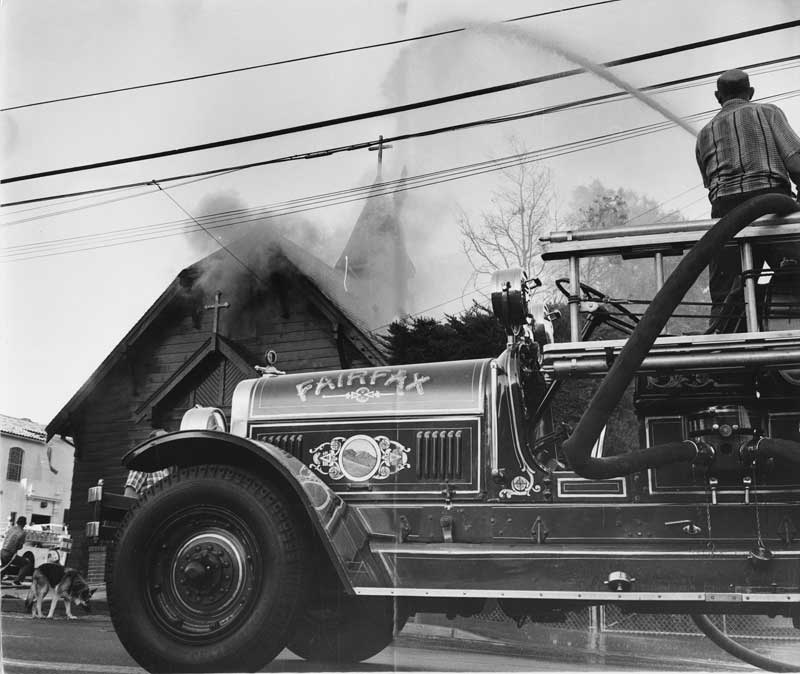 1910 Start of the Fairfax Volunteer Fire Department. The Fire Department was a Function of the Fairfax Improvement Club, the Town's first representative body.
1914 The Fairfax Volunteer Fire Department had three stations. Station #1 located on Bolinas Road. Station #2 located in the Deer Park area. Station #3 located on Manor Road. A bell and bell tower (hand rung) was used to alert the volunteer fireman.
1915 Citizens of the region voted to tax themselves and formed a Fire District. The District included all the territory from White's Hill to the Meadow Club. The District then purchased the lot on Bolinas Road that they had been leasing since 1914. The lot is located where the public parking lot is today near Mono Ave. This became the main fire station and was large enough to house the first motorized fire apparatus.
1918 First paid firefighter is hired. Chief "Cap" Capelli. Chief Cap serves from 1918-1935.
1926 The Fire District builds a modern Fire Station located on the corner of Bolinas Road and Park Road. The building is a two story wood frame with stucco exterior.
1929 The Fire District purchases a Seagrave 500 gallon per minute pumper. This engine, which served until the early 1970s, is now restored and used as a parade vehicle and historical display.
1931 Fairfax becomes an Incorporated City.
1956 All Fire apparatus are equipped with two-way radios, improving communications and allowing fire engines to be notified of emergencies while away from the fire station.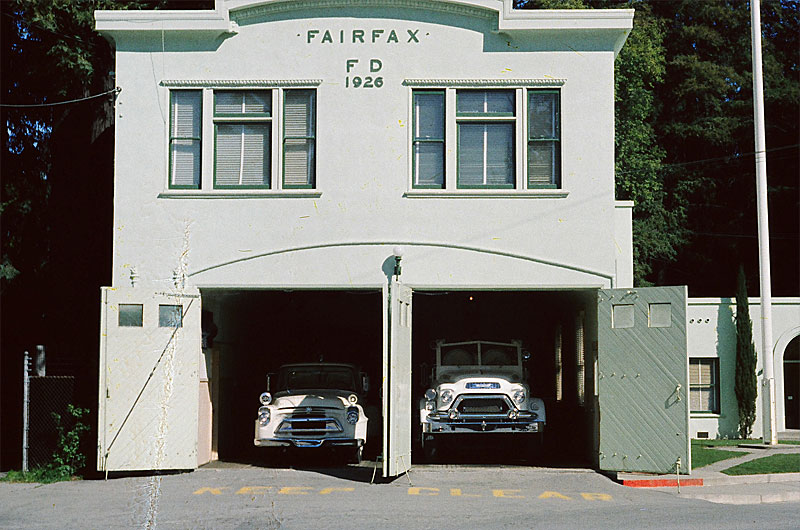 1974 A new fire station (what is now Fire Station 21) was built adjacent to the old station. The old station was demolished and replaced with a new building that is currently occupied by the Fairfax City Hall and the Fairfax Police Department. The staffing of the Fairfax Fire Department consisted of eight paid members and twenty volunteers.
1982 The Fairfax Fire Department and the San Anselmo Fire department joined forces and became known as the Ross Valley Fire Department. This action was approved by both City Councils in an effort to improve service to both communities while reducing the cost of providing service.
Ross Valley Fire Department: 1982 to Present...
The creation of the Ross Valley Fire Authority, which led to the merger of the Fairfax Fire Department, San Anselmo Fire Department, and Sleepy Hollow Fire Protection District into the Ross Valley Fire Department, was the result of an extensive process that began well over a year in advance of the actual consolidation. A working committee was formed consisting of the Town Manager of Fairfax, the Town Administrator of San Anselmo, a member of the Fairfax Town Council, a member of the San Anselmo Town Council, the Chief and Assistant Chief of the San Anselmo Fire Department, the Chief of the Fairfax Fire Department, President of the Firefighters Union, Stephen Warner, who represented both departments, and John Grey as the attorney for the labor union.
The goal of the consolidation was to provide a larger, more efficient fire service that would ultimately provide a higher level of fire protection and service to the residents of Fairfax, San Anselmo and Sleepy Hollow. At the time of the consolidation, there were three Chief Officers, 11 Captains, and 14 Firefighters. During the course of consolidation discussions, the negotiating parties developed the model for the department which was ultimately adopted, developed employer/employee resolutions, grievance procedures, and a model for a new contract, which would cover the employees in both departments. All of this was done in conjunction with LAFCO with regular updates to the Town Councils.
Initially the plan was to hire an additional three firefighters at the retirement of the Fairfax Fire Chief and one of the San Anselmo Captains and raise the staffing level of the Station 21 to three persons on-duty; with two persons on-duty at Station 20 and three persons on-duty at Station 19. There would also be a Chief and an Assistant Chief. Ultimately, these positions were not created, and instead the department continued with the current staffing level of one Chief Officer on duty 24 hours per day, and a minimum line staffing of three Captains and three Firefighter/Engineers.
From the inception, each jurisdiction received the benefit assistance from the other townson first alarm assignments (the initial dispatch to a reported fire) - meaning that three fire engines responded to fires instead of one. Ultimately, with the addition of paramedics, the initial response to reported fires was increased to three engine companies, one paramedic ambulance, and a Chief Officer. This was a significant improvement in service to the public from the previous response level (prior to consolidation), which was two Firefighters from Fairfax (plus off-duty personnel and volunteers when they were available) to a Fairfax fire, or two engines and a Chief Officer to fires in San Anselmo and Sleepy Hollow.
In 2012, Ross Valley Fire Department's Board of Directors voted to consolidate fire services with the Town of Ross, incorporating the Town of Ross fire station 18, and the 9 firefighters employed there, into the Ross Valley Fire Department.