Ross Valley Fire News
News from Ross Valley Fire Department, serving Fairfax, San Anselmo, Ross, and Sleepy Hollow in Marin county, CA.
Ross Valley Firefighters Dispatched to San Diego County Wildfires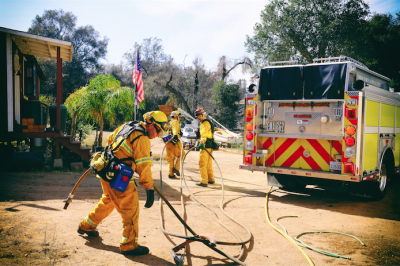 Ross Valley firefighters, along with hundreds of others from throughout Marin and California, are working to contain several fires in San Diego County after being dispatched May 17. California Office of Emergency Services fire engines from ross valley, San Rafael, and Kentfield made the trip to the San Diego area as part of a "strike team" with engines and crews from El Cerrito and the San Francisco fire departments.
Personnel from Ross Valley include Capt. Scott Porter, engineer Michael Gutierrez, firefighter Jesse Olivatti and engineer Justin Hanson. There were four separate wildfires burning in San Diego County on Friday, spanning nearly 8,000 acres, forcing evacuations and road closures throughout the county, according to Cal Fire and local fire departments. The most serious of the incidents is the Cocos Fire, which started Wednesday evening and is burning 3,018 acres in and around San Marcos. It was only 10 percent contained as of Friday morning, according to Cal Fire.
By accepting you will be accessing a service provided by a third-party external to https://rossvalleyfire.org/