Ross Valley Fire News
News from Ross Valley Fire Department, serving Fairfax, San Anselmo, Ross, and Sleepy Hollow in Marin county, CA.
Flood Watch in Effect Sunday - Monday, Feb 19 - 20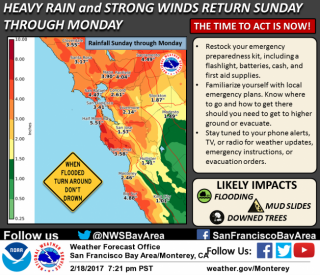 FLOOD WATCH ISSUED BY NATIONAL WEATHER SERVICE. RESIDENTS AND MERCHANTS ADVISED TO PREPARE FOR FLOODING.
Residents are advised to prepare tonight (Feb 19) for possible flooding in the next 24 hours. If you live in a flood prone area, place sandbags and flood-gates, and moving cars to higher ground. High winds are forecast, so prepare for potential power outages.
Monitor creek levels online at the Ross Valley Fire Department Creek and Weather page. Bookmark this page on your mobile device.
NWS: Flood Watch in effect from Sunday 4:00 PM to Tuesday 4:00 AM.
NWS: Wind Advisory in effect from Sunday 4:00 PM to Tuesday 5:00 AM
A potent storm system and associated atmospheric river will begin to impact the region by late Sunday morning. This system will bring light to moderate rain and gusty winds to the region Sunday with precipitation increasing in coverage and intensity Sunday night into Monday morning.
Periods of moderate to heavy rain will likely result in widespread flooding of area creeks, streams and flood prone, low lying areas. The threat for rock/mud slides, shallow landslides and debris flows in recent burn scar areas will also increase as a result of this system. Gusty winds will also result in the potential for downed trees and isolated power outages. Lingering showers will then be possible from Monday night into Wednesday with drying conditions forecast late in the week.
A large swell is also expected to impact the coastal areas Tuesday into Wednesday with breaking waves potentially up to 25 feet.
PRECAUTIONARY/PREPAREDNESS ACTIONS
Sign up for Ross Valley Fire News Alerts!
A Flood Watch means there is a potential for flooding based on current forecasts.
You should monitor later forecasts and be alert for possible Flood Warnings. Those living in areas prone to flooding should be prepared to take action should flooding develop.
Turn around, don't drown when encountering flooded roads. Most flood deaths occur in vehicles.
Be especially cautious at night when it is harder to recognize the dangers of flooding.
A Flash Flood Warning means that flooding is imminent or occurring.
If you are in the warned area move to higher ground immediately. Residents living along streams and creeks should take immediate precautions to protect life and property.
Monitor the Ross Valley Creek Levels and Weather page here...
By accepting you will be accessing a service provided by a third-party external to https://rossvalleyfire.org/