Ross Valley Fire News
News from Ross Valley Fire Department, serving Fairfax, San Anselmo, Ross, and Sleepy Hollow in Marin county, CA.
12/15/2016: Flash Flood Warning Issued for Ross Valley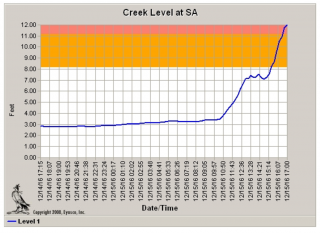 FLOOD HORNS SOUNDED FOR IMMINENT FLOODING IN DOWNTOWN SAN ANSELMO AT 4:50PM 12/15/2016
The National Weather Service in The San Francisco Bay Area has issued a Flash Flood Warning for Corte Madera Creek and the entire Ross Valley Watershed until 7:15 PM PST December 15, 2016.
Gauge reports indicate continuous heavy rain falling across the warned area with multiple creek gauges rising above flood stage. Flash flooding is already occurring.
* At 411 PM PST, Doppler radar and automated rain gauges indicated heavy rain falling across the warned area. Flash flooding is expected to begin shortly. Recent stream stage levels at the Corte Madera Creek at Ross stream gage indicate water levels 1 to 1.5 feet below flood stage and rising rapidly. Heavy rain is still occurring in this watershed.
PRECAUTIONARY/PREPAREDNESS ACTIONS
Flash Flood Warning means that flooding is imminent or occurring. If you are in the warned area move to higher ground immediately.
Residents living along streams and creeks should take immediate precautions to protect life and property.
Turn around, don't drown when encountering flooded roads. Most flood deaths occur in vehicles.
Do not attempt to cross flooded roads! Find an alternate route.
In hilly terrain there are hundreds of low water crossings which are potentially dangerous in heavy rain.
By accepting you will be accessing a service provided by a third-party external to https://rossvalleyfire.org/