Ross Valley Fire News
News from Ross Valley Fire Department, serving Fairfax, San Anselmo, Ross, and Sleepy Hollow in Marin county, CA.
Engineer/Paramedic Chris Mahoney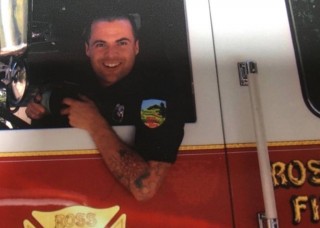 San Anselmo, CA. August 3, 2017.
It is with profound sorrow that Ross Valley Fire Department announces the unexpected passing of Ross Valley Fire Department Engineer/Paramedic Chris Mahoney, age 39.
Chris Mahoney was a Marin County native who was raised in Fairfax and graduated from Sir Francis Drake High School. He attended Marlboro College in Vermont, graduating with a BA in classical music composition. Chris began his Fire Service career as a volunteer with RVFD and was hired as a full-time firefighter/paramedic in January 2005. In addition to serving the Ross Valley community, Chris was also a seasonal firefighter/paramedic for the Marin County Fire Department, serving West Marin. In addition to his Firefighting duties, Chris was a participating member of the Marin County Hazardous Material Team.
Chris is survived by his mother Shirley Mahoney, his father Jay Mahoney and stepmother Trish, his sister Julia Lieb, his brother RVFD Battalion Chief Dan Mahoney, and his three nieces Anna, Filomena, and Odette; as well as his Ross Valley and Marin County Fire Department families.
All Marin County Fire agencies are providing support to RVFD during this tragic time. Departments will be supplying staffing coverage, as well as peer and family support. Flags will be lowered to half-staff at all Marin County Fire stations and badges will be shrouded in honor of Chris.
We offer our deepest condolences to the Mahoney family as they mourn the loss of their beloved son and brother. Please keep them, and all of us, in your thoughts at this sad time.
The Mahoney family has asked for privacy now and in the coming days. They plan to hold a private, family service. A celebration of life will follow later, open to extended family, friends, and colleagues. Information will be posted here when it is available.
By accepting you will be accessing a service provided by a third-party external to https://rossvalleyfire.org/