Ross Valley Fire News
News from Ross Valley Fire Department, serving Fairfax, San Anselmo, Ross, and Sleepy Hollow in Marin county, CA.
Defensible Space Inspections Underway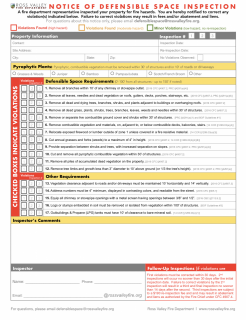 Did you receive a NOTICE OF DEFENSIBLE SPACE INSPECTION? If you received a notice, you may have questions about the meaning of the different requirements and specific hazards noted. Use the list below and click on an item to learn more about specific violations and requirements.
FAQs
---
Violation Categories
Inspectors check boxes to indicate violations observed during inspections. Please select any boxes that were checked on the Hazard Notice left at your home to learn more about how to correct the violation.
By accepting you will be accessing a service provided by a third-party external to https://rossvalleyfire.org/