Ross Valley Fire News
News from Ross Valley Fire Department, serving Fairfax, San Anselmo, Ross, and Sleepy Hollow in Marin county, CA.
CERT Class November 8 & 15: Sign Up Today!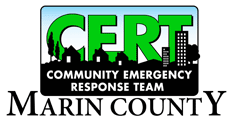 Be prepared when disaster strikes! Sign up now for upcoming Community Emergency Response Team (CERT) training November 8 & 15, 2014
In the event of a large scale emergency, the limited number of first responders in your community may be overwhelmed. It is critical for citizens to be prepared to take care of themselves, their neighbors, and their community for at least 3 days (preferably 5-7). The Community Emergency Response Team (CERT) training is a national program to train citizens to help fill the gap that may occur between a disaster or emergency and the arrival of professional responders. The cost is $45, but there are scholarships available!
After completing the course, CERTs will be able to provide immediate assistance to handle small fires, turn off utilities, give basic first aid, perform light search and rescue, and collect information to provide arriving professional first responders. Participants find the class engaging, fun, and very informative. For details on what happens during the class, please visit http://readymarin.org/cert/
Kentfield CERT Class #1
When Sat, November 8, 8:30am – 5:30pm
Where
College of Marin,TB1, 835 College Avenue, Kentfield, CA (
map
)
Description Kentfield CERT Sat. 11/8 8:30am - 5:30pm Sat. 11/15 8:30am - 5:30pm
To register (secure online payment via PayPal, no account required) click here.
This 2 day class will be taught by your local Central Marin fire agencies at the College of Marin Campus in Kentfield, Saturday November 8 and 15, 2014.
By accepting you will be accessing a service provided by a third-party external to https://rossvalleyfire.org/