Ross Valley Fire News
News from Ross Valley Fire Department, serving Fairfax, San Anselmo, Ross, and Sleepy Hollow in Marin county, CA.
2014 Toy Drive: Drop Off Toys by December 18 to Help a Local Child!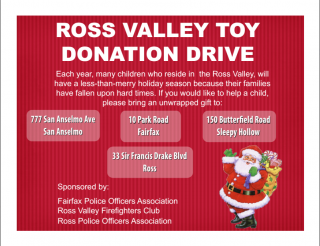 Each year, many children who reside in the Ross Valley, will have a less-than-merry holiday season because their families have fallen upon hard times. If you would like to help a local child in need, please bring an unwrapped gift to any Ross Valley Fire Station no later than December 18.
By accepting you will be accessing a service provided by a third-party external to https://rossvalleyfire.org/