Fire Prevention
The Fire Prevention Bureau of Ross Valley Fire Department exists to asist residents, builders, real estate professionals, and business owners prevent the loss of life and property from fires. At the heart of any code enforcement program is an adopted fire code and related standards. The Fire Prevention Bureau derives its authority from the adopted fire code and standards that establish minimum requirements for life safety in new and existing buildings and businesses.
Navigating the complex regulations related to planning, building, business and property ownership can be difficult. Our fire prevention personnel are here to help! If you have questions about fire codes, defensible space around your home, selling or buying property, or any other fire or life safety concern about a business, property or building, please do not hesitate to contact our office.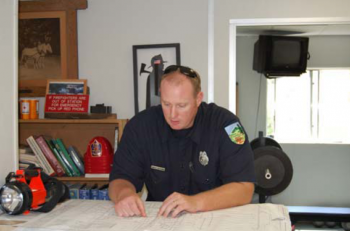 Over the years, the public has developed an expectation that the Fire Department should identify and abate fire hazards in the community. Because of this, and a large body of evidence that demonstrate its effectiveness, Fire Prevention efforts play an increasingly important part in any fire department's activities.
We appreciate the input from our citizens of their concerns about possible fire hazards in their neighborhood.
Please contact the Fire Prevention Bureau if you notice a possible fire hazard. We will contact you after an inspection is completed, if it is requested.