Ross Valley Fire News
News from Ross Valley Fire Department, serving Fairfax, San Anselmo, Ross, and Sleepy Hollow in Marin county, CA.
2 minutes reading time
(362 words)
Join us on National Night Out - August 2, 2016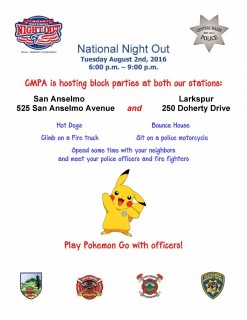 Hope you can join us at this fun event!
On Tuesday, August 2nd from 6:00 pm to 9:00 pm, people all over the Unites States will observe the 33rd annual National Night Out (NNO). This program was created by the National Association of Town Watch to make a statement against crime throughout the country. Initially the primary purpose of National Night Out was to get neighbors to leave their front porch lights on, showing their support of their local police departments in the fight against crime. Last year, 38.3 million people in over 16,000 communities from all 50 states, U.S. territories, Canadian cities, and military bases worldwide participated. Central Marin Police Authority is happy to be participating in National Night Out for the first time this year. Please join us and our public safety partners by organizing a neighborhood activity on your block. Let's give crime a going away party!
While the traditional "lights on" and front porch vigils remain a part of NNO, activities have expanded considerably over the years. Neighborhood events can be casual and informal such as a potluck or ice cream social, or more elaborate activities like a street party. If your neighborhood is not able to hold an event this year, then please come on over to our house! CMPA will host block parties at both our stations: in Larkspur at 250 Doherty Drive, and in San Anselmo at 525 San Anselmo Avenue. This is a night to send a powerful message about neighborhood unity, awareness, safety, and police-community partnerships. Let criminals know that we are united and dedicated to building safer, more caring communities.

If you are going to hold an event in your neighborhood, fill out the registration form, including a detailed description of your activities (locations, time, schedule, number of people, activities, etc.) You will find the form on our website at www.centralmarinpolice.org/forms. If your event includes a street closure, you must contact your City or Town Public Works Department for a permit
.
Please send your completed registration to Margo Rohrbacher, NNO coordinator, no later than Tuesday, July 12th. For questions or more information contact Margo at margor@centralmarinpolice.org. We look forward to your participation in this great evening!