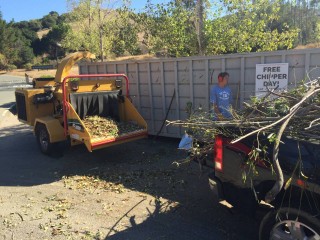 DROP OFF ONLY AT END OF BUTTERFIELD ROAD!
Sleepy Hollow Fire Protection District, Ross Valley Fire Department, and FIRESafe MARIN will have a chipper station located at the end of Butterfield (by the entrance to San Domenico) Sunday, June 5, 2016. Clean up your property to create defensible space and help prevent wildfires in Sleepy Hollow, then bring the vegetation on that day and we will chip it for you! This service is available to Sleepy Hollow residents only. Fairfax, San Anselmo, and Ross will host Chipper Days later this summer and fall. Check back soon for details!
Date: June 5, 2016
Time: 9AM-3PM
Location: At the end of Butterfield Road near the entrance to San Domenico School.
For any questions about the chipping service, either on or before the 5th, please contact FIRESafe MARIN Coordinator Todd Lando at toddlando@firesafemarin.org.
Sleepy Hollow Fire Protection District will offer a curbside chipper day mid-late summer, 2016, to accomodate residents who attend our free Firewise training on June 11 (and give them time to apply the lessons they learn!).
---
JUNE 5, 2016 CHIPPER DAY INFORMATION
Sleepy Hollow Fire Protection District and FIRESafe MARIN sponsor "Chipper Days" each spring and fall for all residents of the District. To participate in the June 5 chipper day, you must drop off material for disposal at the end of Butterfield Road.
1. CREATE DEFENSIBLE SPACE
Please review the booklet, "Living With Fire in Sleepy Hollow." All Sleepy Hollow residents received a printed copy by mail in 2014, and a PDF version is available for download here. It contains valuable information regarding wildfire risk, defensible space, and firescaping. Additional information on creating Defensible Space is available at www.firesafemarin.org. The law requires that all property owners remove the flammable vegetation on your property to create a defensible space of at least 100 feet (PRC 4291).
2. DROP OFF MATERIAL
Crews will be located at the end of Butterfield Road near the entrance to San Domenico School.
CHIPPER CREWS WILL DISPOSE OF UP TO 5 CUBIC YARDS OF CUT VEGETATION AT NO COST (APPROXIMATELY 4'X4'X8', STACKED).
Limbs and branches, 1" to 6" diameter, brush, woody material, broom are OK! NO Grass, loose leaves, or soft plants (dispose of these in green cans, please). The chipper can only dispose of limbs, branches, and woody material.
No material should be greater than 6" in diameter.
Material should be freshly cut. "Green" chips are better than old, dry vegetation and cause less wear to the equipment.
All vegetative material should be free of rocks, dirt and other foreign material that could damage the equipment. No lumber, fencing, or other materials may be chipped.
Property owners may be asked to sign a record of the location and hours that were spent cutting the materials to be chipped.
3. QUESTIONS
Please contact toddlando@firesafemarin.org or visit www.shpfd.org/chipper.